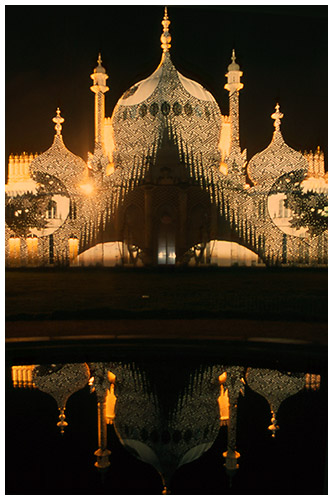 THE BRIGHTON PAVILLION
NOV 2003
For the first time ever and for one unique evening, the hidden secrets of The Royal Pavilion were revealed and projected onto the exterior walls for all of Brighton to experience.

Nathalie was given access and began to create a visual narrative collected from the unseen walls, objects, photos that the building had never revealed to the public before.

"The involvement of the local communities in the projects was equally successful as the stunning projections for the audience. Images of Nathalie's work in the city have since been used in a wide range of publicity and marketing materials outside of the scope of the projects. The imagery has captivated audiences beyond those who took part as participants or audience directly."
Paula Murray, Head of Arts and Creative Industries, Brighton & Hove City Council

The fact that so many people came on such a foul evening is proof of the project's success in being both stimulating and genuinely participatory."
Spectator

A special thanks to Ross Ashton and ETC Ltd for believing in the project and sponsoring it.
Photography by Nigel Swallow, Denise Felkin, David Thompson, Katta Gyondiosis.